.
.
Description or situation
.
.
Overview
Homelessness is often expressed within modern societies as a subject that's not without its share of condemnation. Many people view the matter of homelessness as something to be critical of, ... as if to suggest that such a condition is probably self inflicted or deserved. Additional misconceptions depict homelessness as the result of being lazy or perhaps the lack of intellect and the consequences of nonconformity. Opinions as such can be validated in some situations as they occasionally apply but does not by any means depict the nature of the condition and its effects regardless of the causes. 
There are many reasons as to why a person or family is or may experience homelessness within their life time. Despite our intellectual capacity or our personal aspirations to succeed most all societal environments can be unpredictable and have the potential to inflict times of desperation and poverty on most everyone. Anyone can experience homelessness or "become" homeless,  ... either by unexpected circumstances or by choice.
The difference between experiencing homelessness and becoming homeless often resides within our perspective and the efforts between adapting for the long run and fighting to change the situation at hand. Adaptation is not for everyone. It can be very difficult if not impossible to achieve for those who may be less fortunate, under skilled or challenged in some way. It is in these circumstance when it is generally expected that societal cultures will engage in acts of humanity for solving a situation believed to be out of our individual control. "Humanity" tends to leave this sort of thing for others. Unfortunately the general public often rely on their government institutions to "deal" with such issues. The solutions are most often remnant of dismantling and sweeping away a "problem". Unfortunately, ... constructive solutions are often subject to getting lost in waves of bureaucracy and in most cases are allowed to stagnate without fruition. Meanwhile, ... the condition and causes for homelessness continue to escalate at alarming proportions.

The term homelessness is most often given to people living within a metropolitan region in an unofficial and temporary capacity or situation. Homeless people living outside those regions are often thought of as rural squatters, preppers, survivalists or wandering naturalists. They are typically hidden from public view but their situations may reflect the same hardships encompassed by a limitation in resources and extreme desperation.
The effects of homelessness are not without their share of burdens imposed upon others. Many homeless typically live from day to day and are subject to acts of desperation which can cause others to feel or become victimized. Homelessness is a condition with a potential to cause degradation of a community and its culture if made light of or disregarded altogether.

.
.
The following is intended to aid those seeking information related to the cause, effects and consequences associated with homelessness.
.
.
.
.
What is homelessness?
.
Homelessness is the condition of living for a person or family without a permanent dwelling, such as a house or apartment. People who are considered as homeless are most often unable to acquire and maintain regular, safe, secure and adequate housing. The legal definition of homeless varies from country to country, or among different jurisdictions in the same country or region. The term homeless may also include people whose primary night-time residence is in a homeless shelter, a domestic violence shelter, long-term residence in a motel, a vehicle, squatting, cardboard boxes, a tent city, tarpaulins, shanty town structures made of discarded building materials or other ad hoc housing situations. Some people extend the definition of being homeless to situations where they are subject to living with a friend or relative which in many cases brings out feelings of not being in control of one's own life. Being homeless is also a matter of perspective for many. Where some refer to those living in less desirable conditions in an UN-official capacity as "homeless", ... many so called homeless dwellers are humbled and consider what they have and where they are as "home". Many so called "homeless" dwellers are often not accustomed to lifestyles  that would reflect anything different and are not always motivated to change their situation. Homelessness is not only a state of condition but is also a state of mind. How we feel about our personal situations is often cyclic and varies between each of us. What some define as homelessness, ... others simply except as the way things are.

.
.
.
What are causes for homelessness?
.
Category causes for homelessness can vary as indicated in the list below. An additional and interesting cause to consider is encompassed around a well established practice which human beings have engaged in since the beginning of time. It may very well be the underlying commonality between all the causes to some degree.
For the most part, ... everywhere on Earth is owned by either a country, organization or individual. All of these areas of ownership have a tendency to expect some form of compensation for the use of the land they claim as theirs. In a perfect world, ... it is conceivable to assume that if we all had a piece of land or property of our own then there might not be as much homelessness in the world today. However, ... we don't live in world as such. Instead, ... we live on a planet where people have striven to accumulate far more than their share of property often killing entire populations to acquire more of that land for themselves. Our planet is divided up into segments of said land, ... all of which are owned and operated in such a way that requires people who reside within those borders to pay for the right to live there one way or another. Alternatives to paying are commonly expected in the form of eviction, banishment, imprisonment etc. Residing within many of these areas on the planet often requires "permission" to do so while other areas are "forbidden" altogether.  This is historically normal behavior and seems to be human in nature as history depicts.
To make matters even more cumbersome, ... the costs, rent and prices set for the use and authorization to reside on said properties can vary from mediocre to highly inflated. Laws are often and cleverly enacted in order to prevent people from living in such a way that resembles homelessness, ... simply meaning that we all must pay someone. Once we have agreed to the owners terms we then we become citizens of that land or region which again subjects us to an entirely new set of expectations and burdens of cost. It is reasonable to calculate that "allowing" others to live outside those communities of property and land does not drive or produce income for the owners.
Some regions have modified laws and regulations that continually make it harder for the average person to gain or acquire property of their own. Such a configuration of rule forces citizens to be subjected to living under what ever costs are imposed by the owners. Ownership in this context is often referring to countries and governments as well as corporations and individuals.
.
.
Common reasons why people become homeless
Note:  Be advised that the following percentages are subject to minor fluctuations between poling organizations and the regions that were examined and are presented to reflect the highest numbers for any given category or cause.

•  34% job loss
•  10% eviction
•  7% mental health
•  12% incarceration
•  7% domestic violence.
•  20% drugs or alcohol use
•  15% divorce or separation
•  13% due to a lack of affordable housing
•  7% physical health or medical condition.
•  1% housing restrictions due to probation or parole
•  13% an argument with a family member who asked them to leave
.
Additional reasons assumed to be associated with homelessness are those situations where people choose to live in such a way that is misunderstood as homelessness. Many people choose to exist in such a way that allows them to live on far less of a burden in cost and are generally experts at maximizing resources no matter where they happen to be. This is especially true for those who meander within the inner boundaries of a city. Those who choose to camp out in metropolitan areas do so with the intent of making full use of local resources to their benefit.

Many of these individuals have adapted to accommodate their needs and very often do not wish to integrate into a societal community as others would have them do. Living similarly to those typically considered as homeless does not define them as homeless. Homelessness is a matter of perspective for many people. When interviewed and asked, ... many people who are defined as homeless prefer the lifestyle and wish to remain within their environment in peace.

.
.
.
What are known effects of homelessness?
.
Homelessness has certainly become a crisis that can no longer be ignored. It is a global situation that impacts everyone despite the reluctance to see it for what it is or to dismiss it as a problem for others to solve. The effects of homelessness are not defined or limited to a snap shot we have in our minds of a person holding a sign asking for food or a row of cardboard houses along side the road. No, ... homelessness has a great many impacts that can reverberate far beyond the condition of not having a physical home or a meal to eat.
According to the UK homelessness charity Crisis, a home is not just a physical space. It also provides roots, identity, security, a sense of belonging and a place of emotional well-being.

Some of the noted effects of homelessness are associated with mental and physical conditions often triggered by such a condition. Additional effects of the homeless crisis are known to impact communities as well as tax payers.
.
Noted effects of homelessness are as follows
Physical and mental »
•  Fear
•  Insecurity
•  Lack of hope.
•  lack of confidence
•  Rape and assault.
•  Hunger and thirst.
•  Anger and frustration
•  Lack of reasonable rest.
•  Drug and alcohol abuse.
•  Isolation and loneliness.
•  Exposure to extreme weather.
•  Victimization from theft and robbery.
•  Increased frequency for health related illnesses.
•  Subject to being ridiculed with unrealistic judgement from others.

•  Emotional distress due to potential divisions and separation of family units.
.
Community, social and governmental »
Other effects of homelessness also tend to impact nearby communities and their supporting city or local governments as follows:
.
• Degradation of housing or neighborhood values.
•  Harassment, theft, robbery and accosting of innocent citizens.
•  Visual or unsightly characteristics associated with makeshift camps.
•  Offensive or intolerable scents and odors which permeate a specific area.
•  Accumulation of trash and debris left unattended or disregarded for others to pick up.
•  Burdens of repetitively treating homeless visitors at hospitals and clinics for non medical or self inflicted issues.
•  Increase taxation on the community to cover required efforts for managing relative issues associated with the conditions.
.
.
.
Who is susceptible to becoming homeless?
.
In summery, ... anyone can be subjected to or experience homelessness. However, ... there are some people that are more susceptible to this condition than others. Various studies of homeless communities and individuals indicate that personal drive and ambition play a huge role in what we are willing to accept or change. Other susceptible people include but are not limited to those who may be  emotionally or mentally challenged, abusing drugs, uneducated or simply possess the worst kind of luck as fate might have it. Homelessness can also apply for people who are less fortunate in having decent family and friends, ... which anyone knows we can benefit from during times of uncertainty. Having a circle of successful alliances or encouragement from right thinking family, friends and associates can make the difference between becoming temporarily displaced or remaining that way indefinitely.
.
.
.
Homelessness in history
.
Early history through the 1800s
Following the Peasants' Revolt, English constables were authorized under 1383 English Poor Laws statute to collar vagabonds and force them to show support; if they could not, the penalty was goal. Vagabonds could be sentenced to the stocks for three days and nights; in 1530, whipping was added. The presumption was that vagabonds were unlicensed beggars. In 1547, a bill was passed that subjected vagrants to some of the more extreme provisions of the criminal law, namely two years servitude and branding with a "V" as the penalty for the first offense and death for the second. Large numbers of vagabonds were among the convicts transported to the American colonies in the 18th century. During the 16th century in England, the state first tried to give housing to vagrants instead of punishing them, by introducing bridewells to take vagrants and train them for a profession. In the 17th and 18th centuries, these were replaced by workhouses but these were intended to discourage too much reliance on state help.
The growing movement toward social concern sparked the development of rescue missions, such as America's first rescue mission, the New York City Rescue Mission, founded in 1872 by Jerry and Maria McAuley. In smaller towns, there were hobos, who temporarily lived near train tracks and hopped onto trains to various destinations. Especially following the American Civil War, a large number of homeless men formed part of a counterculture known as "hobohemia" all over America. This phenomenon re-surged in the 1930s during and after the Great Depression.
In America, ... it is believed that the origin of homelessness traces back to the colonial days. As early as 1640, the English "vagrants" were listed as outcast individuals and the police were after them. The homeless people were regarded as "Sturdy beggars" in the mid eighteenth century and they were found in every corner of the colonial towns. For example towns like, Baltimore and Philadelphia had a more significant number of homeless than any town in America. The problem of homelessness at that period was a result of the King Philip' War Of 1675-1676 against the native people. Many colonies were driven out of their homes to seek shelter in the forests or coastal areas. They remained idle for sometime until a law was enacted to prevent "idleness" in the cities and those idle people were made servants or indentured servants. But as the war continued between the French and Indians, the securities of some families were threatened and forced many families to become refugees across the frontier areas like New England and New York.
During the American Revolution, the homelessness increased like never before. Many individuals soon after the war were forced into homelessness due to insufficient needs. By the depression of 1857, most of the growing cities were full of homeless people but there was no effort to intervene from the government. Even though there were some private charities and organizations whose goal was to solve this problem, it didn't work. It was at this time the"Western Soup Society" came into existence in the state of Philadelphia to help people with food-- especially during the harsher seasons like winter. The organization tried to thrive without the government but there was little fund. The government received criticism from many charity organizations but turned deaf ears on them.
In the years to come, civil war broke out and made the situation beyond human imagination. Homelessness was on the rise again. Many war veterans remained unemployed and others lost their   properties to war and natural catastrophes, thus they spent most of their times in the streets. In the nature of things, many people passed homelessness from generation to generation in the form of poverty and crime. Source » Publication: "Down and out on the road / The homeless in American history"
Further information: Homelessness in England and Homelessness in the United States
.
.
.
Homeless statistical data
.
General facts on Homelessness:
On any given night, it is estimated that there are approximately 643,067 people experiencing homelessness in America. This data encompasses long and short term situations. The global number of estimated homeless people now exceeds 1.6 billion.

.
.
Statistical data for the U.S. (assembled in 2016)
1).  564,708 people in the U.S. are homeless. According to a recent report, over half a million people were living on the streets, in cars, in homeless shelters, or in subsidized transitional housing during a one-night national survey last January. Of that number, 206,286 were people in families, 358,422 were individuals, and a quarter of the entire group were children.
2).  83,170 individuals, or 15% of the homeless population, are considered "chronically homeless." Chronic homelessness is defined as an individual who has a disability and has experienced homelessness for a year or longer, or and individual who has a disability and has experienced at least four episodes of homelessness in the last three years (must be a cumulative of 12 months). Families with at least one adult member who meets that description are also considered chronically homeless.As the National Alliance to End Homelessness explains, "While people experiencing chronic homelessness make up a small number of the overall homeless population, they are among the most vulnerable. They tend to have high rates of behavioral health problems, including severe mental illness and substance use disorders; conditions that may be exacerbated by physical illness, injury, or trauma."
3). 47,725, or about 8% of the homeless population, are veterans. This represents a 35% decrease since 2009. Homeless veterans have served in several different conflicts from WWII to the recent wars in Afghanistan and Iraq. Washington, D.C., has the highest rate of veteran homelessness in the nation (145.8 homeless veterans per 10,000). 45% of homeless veterans are black or Hispanic. While less than 10% of homeless veterans are women, that number is rising.
4). 1.4 million veterans are at risk of homelessness. This may be due to poverty, overcrowding in government housing, and lack of support networks. Research indicates that those who served in the late Vietnam and post-Vietnam era are at greatest risk of homelessness. War-related disabilities or disorders often contribute to veteran homelessness, including physical disabilities, Post Traumatic Stress Disorder (PTSD), traumatic brain injury, depression and anxiety, and addiction.
5). 550,000 unaccompanied, single youth and young adults under the age of 24 experience a homelessness episode of longer than one week. Approximately 380,000 of that total are under the age of 18. Accurately counting homeless children and youth is particularly difficult. The National Alliance to End Homelessness explains, "Homeless youth are less likely to spend time in the same places as homeless people who are in an older age range. They are often less willing to disclose that they're experiencing homelessness or may not even identify as homeless. They also may work harder to try to blend in with peers who aren't homeless."
6). 110,000 LGBTQ youth in the U.S. are homeless. This is one of the most vulnerable homeless populations. A substantial number of young people who identify as LGBTQ say that they live in a community that is not accepting of LGBTQ people. In fact, LGBTQ youths make up 20% of runaway kids across the country. Family rejection, abuse, and neglect are major reasons LGBTQ youth end up on the streets. Additionally, homeless LGBTQ youth are substantially more likely than heterosexual homeless youth to be victims of sexual assault and abuse. LGBTQ homeless youth are twice as likely to commit suicide compared to heterosexual homeless youth.
7). Fifty percent of the homeless population is over the age of 50. These individuals often face additional health and safety risks associated with age. They are more prone to injuries from falls, and may suffer from cognitive impairment, vision or hearing loss, major depression, and chronic conditions like diabetes and arthritis.
8). 830,120 year-round beds are available in a range of housing projects. About half of those beds are dedicated to people currently experiencing homelessness. This includes
• Emergency Shelters that provide temporary or nightly shelter beds to people experiencing homelessness.
• Transitional Housing that provides homeless people with up to 24 months of housing and supportive services.
• Safe Havens that provide temporary shelter and services to hard-to-serve individuals.
.
The other half of these beds are targeted at recently homeless populations. Rapid Rehousing provides short-term and medium-term rental assistance, housing relocation, and stabilization services to formerly homeless people experiencing homelessness. Permanent Supportive Housing provides long-term housing with supportive services for formerly homeless people with disabilities. Other Permanent Housing provides housing with or without services, but does not require people to have a disability.
As shocking as these statistics are, there are so many great organizations working tirelessly to end homelessness in the U.S. and around the world. Get inspired by their work and success, continue reading some of the Social Solutions case studies that feature clients who work with the homeless population!  [Source]
.
.
Global Homelessness statistical data

The last time a global survey was attempted – by the United Nations in 2005 – an estimated 100 million people were homeless worldwide. As many as 1.6 billion people lacked adequate housing (Habitat, 2015).
Getting an accurate picture of global homelessness is extremely challenging. Definitions of homelessness vary from country to country. Census data is typically collected based on household and, while most census data takes into account those living in shelters and receiving government aid, census takers struggle to count the "hidden homeless" – those who may be residing in inadequate settlements such as slums, squatting in structures not intended for housing, couch surfing with friends and family, and those who relocate frequently.
Get more on global homelessness here »  [Source]
.
.
.
.
Videos
.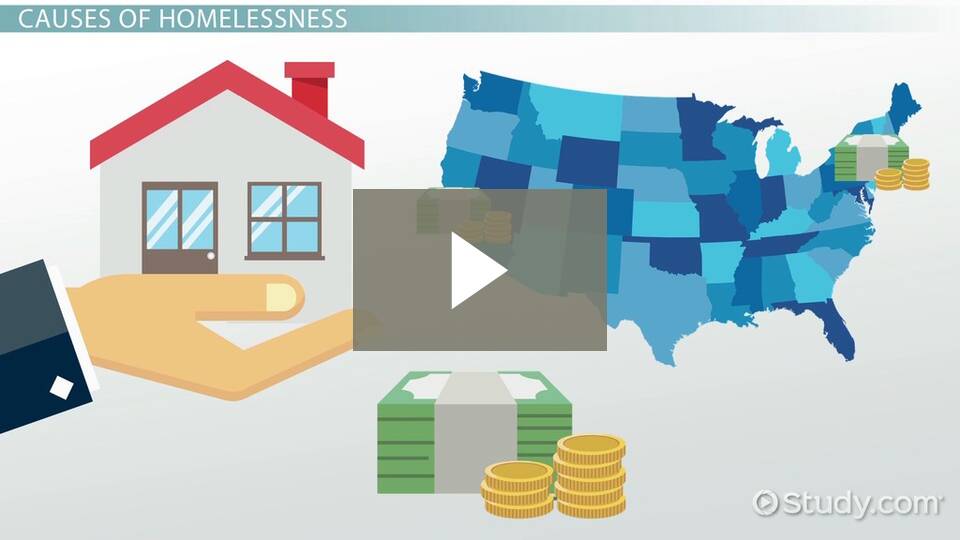 .
What Is Homelessness? - Definition, Causes & Effects - Video & Lesson Transcript | Study.com
What Happens When Cities Make Homelessness a Crime: Hiding The Homeless
Number Of Homeless People In New York City Reaches All-Time High
Tent City: Making a career out of homelessness (RT Documentary)
Residents of huge homeless camp are asked to clear out
Europe's homeless problem getting worse
.
.
   .
American homelessness: The Guardian
Of the 10 states with the highest rates of homelessness, seven are in the western half of the country. In a new project by the Guardian, Outside in America will explore the homelessness crisis in the western United States, and we'll offer ways you can help solve the problem.
Outside in America: learn more – and sign up for our email newsletter
.
.
.
.
.
References and sources:
.
http://www.ourownbackyardhomes.org/
https://en.wikipedia.org/wiki/Homelessness
http://www.greendoors.org/facts/general-data.php
https://www.homelessworldcup.org/homelessness-statistics/
http://study.com/academy/lesson/what-is-homelessness-definition-causes-effects.html
https://www.theguardian.com/us-news/video/2017/feb/16/outside-in-america-homelessness-video
http://www.wlox.com/story/35094591/man-plans-to-turn-portable-toilets-into-homes-for-the-homeless
.
.